If you have an iPhone and you love taking photos with your phone, you're going to love this awesome iphone camera grip!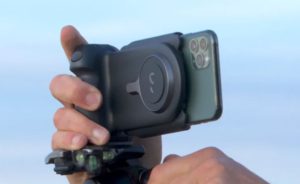 It is called the "ShiftCam ProGrip Charging Smartphone Grip Starter Kit" You can get it here: https://www.bhphotovideo.com/c/product/1668543-REG
Check out all the features!
Mobile Shooting with a DSLR-Style Grip
Built-In Wireless Charger in Holder
Charge 2nd Device via USB Port in Grip
Up to 15W Wireless / 20W USB Charging
Holder Supports 2.3 to 3.5″ Wide Phones
Comfortable & Ergonomic Design
Built-In Bluetooth Shutter Button
Portrait/Landscape Holder Rotation
Grip Doubles as a Charging Dock
Bracket & Mount for Optional Accessories
The ProGrip from ShiftCam is a mobile shooting grip with a DSLR-style design. It comes with a built-in wireless charger, so you can keep your phone charged while you're shooting. Additionally, it has a USB port that you can use to charge a second device. The ProGrip has a comfortable and ergonomic design, and it also doubles as a charging dock. It comes with a bracket and mount for optional accessories, such as a microphone or light.