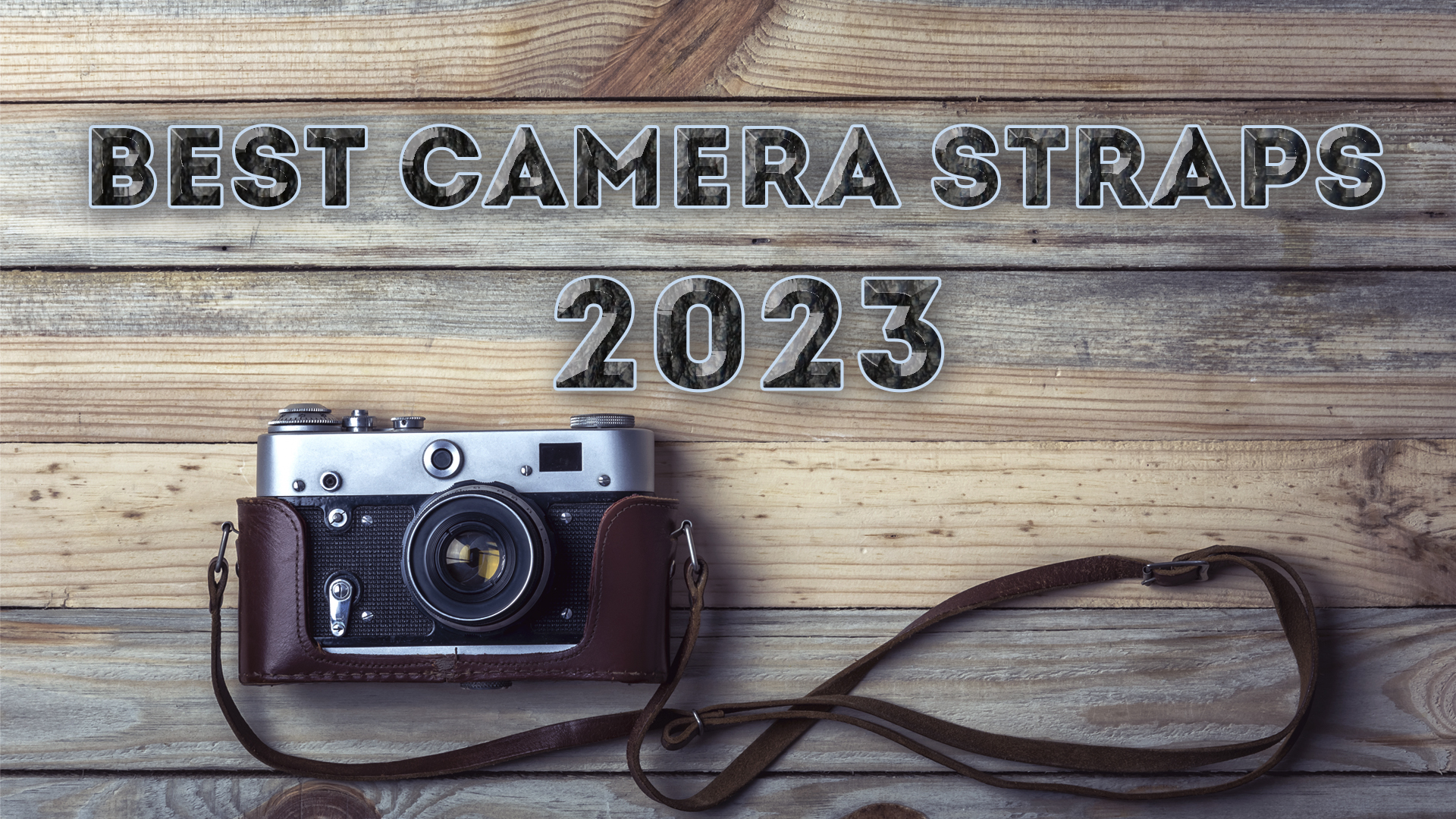 Camera straps are something people might not pay attention to because it is not part of the camera feature itself. However, they can be an important part of equipment for every photographer. Camera straps are now made from different materials like leather, nylon, and polyester. It's not just about the material though, sometimes it's more about the design which makes them stand out. Some camera straps will be so beautiful that there will be people who decide to collect them all, even if they don't use them with any cameras!
There are different kinds of camera straps. The neck strap, the wrist strap, and the cross-body camera straps are for different purposes.
You can use a neck strap when you want to keep your hands free, such as taking candid shots, or in conditions where you don't want the camera dangling from your wrist, such as while biking or rock climbing.
A wrist strap allows you to hook your camera onto your wrist but can get in the way of using the camera controls, especially if your fingers are big or you want to adjust settings often. The strap slides across your hand while you're working, which can pull on the camera and knock it out of position.
A cross-body strap is faster to draw than either the wrist or neck straps because it slides across your body rather than requiring you to lift the strap over your head or off one shoulder. The camera sits at the ready position with a crossbody strap, so it's easier to maintain stability and control while photographing. Cross-body straps are best for protecting your camera and for keeping your hands free.
This list includes what I believe to be the coolest or most interesting ones among those are available right now. So here are my top 10 camera straps for 2023!
1.  Urth Mantle Camera Strap
Introducing the URTH Leather Camera Strap, crafted from premium quality leather, this camera strap is designed to provide a comfortable and stylish carrying experience. It features a soft, padded shoulder pad that distributes weight evenly, making it easy to carry your camera for extended periods of time.
But what really sets the URTH Leather Camera Strap apart is its unique design. The strap is available in a range of beautiful, earthy colors that will add a touch of elegance to your photography gear. The leather has a natural, rustic look and feel, which only gets better with age as it develops a rich patina.
Not only does the URTH Leather Camera Strap look great, but it's also practical. It features two metal D-rings that securely attach to your camera, keeping it safe and secure while you're on the move. The adjustable length of the strap means it can be customized to fit your body and preferred carrying style.
This camera strap is not just a practical accessory but also an eco-friendly choice. The leather is sourced from environmentally responsible tanneries, ensuring that the impact on the planet is minimized. By choosing the URTH Leather Camera Strap, you're making a conscious choice to support sustainable and ethical manufacturing practices.
The Peak Design Leash is a well-built, versatile strap that's easy to attach and remove. It can be worn as a sling strap or neck strap.
The Anchor Link quick-connecting system works very similarly to the Capture Camera Clip System. The Leash attaches securely to your camera via a D-ring connection point on the bottom of your DSLR or mirrorless camera. You then connect the leash as you would any standard camera strap as it wraps around your body from either shoulder down to your side where it clips in place with another Anchor Link connector. Then, just clip each end of the leash into the respective connectors (upper left) on either side of your camera for instant security! 
3. 
HoldFast Gear Money Maker
I don't think it's possible for anyone who has seen a photo of a famous photographer holding a camera at just below eye level – looking effortlessly stylish and cool – not to have thought "Oh, what I wouldn't give to shoot like that." This is exactly how I felt when I first saw these types of images! Being able to hold your cameras so close to your body while also being able to get them up to your face quickly AND look good doing it…is the stuff dreams are made of!!!
The HoldFast Gear Money Maker is like nothing else available on the market today. Nothing even comes close (in my opinion). It's truly one of those products that once you see what it can do you wonder why no one thought
4. WiggyStraps Denim Camera Strap set
Are you a photographer who loves to express your personal style through their gear? Look no further than Wiggy Strap's denim material neck and wrist camera strap combo. Not only is this combo stylish, but it also allows you to add a personal touch to your photography setup.
The denim material adds a casual and cool vibe to your gear, perfect for photographers who want to showcase their unique personalities. The combination of denim and leather also adds a touch of sophistication, so you can still maintain a professional look while showing off your personal style.
And let's not forget about the functionality – the neck strap is adjustable to fit a variety of body types, and the wrist strap is perfect for when you need quick access to your camera. Plus, the denim material adds extra grip, ensuring that your camera stays secure while you're on the move.
But the best part about this combo? It's a great gift for the photographer in your life. Whether they're a professional or a hobbyist, the Wiggy Strap denim combo is a thoughtful present that they'll love. And with its unique and personal style, they'll be able to showcase their individuality with every shot they take.
In conclusion, the Wiggy Strap denim material neck and wrist camera strap combo is the perfect choice for photographers who want to be stylish and make a personal statement with their gear. It's functional, and versatile, and adds a touch of personality to your photography setup. And as a gift, it's sure to be a hit with any photographer in your life.
5. TARION Genuine Leather Camera Strap
This camera strap is made of genuine finished leather, giving it both an attractive look and the necessary sturdiness. This stitch-less edge-to-edge leather is reliable and has no imperfections. The stitching also looks nice. These two factors make this strap beneficial for men or women who want a stylish DSLR Strap that they can show off.
You can quickly attach the rings to your camera with ease because there are no unnecessary buckles on this product; you don't have to spend time trying to figure out how each one works. You can do what you need to do (attach them to your camera) quickly.
6. Hecho Brown Leather Camera Strap
This handcrafted product will give a vintage-y look to cameras, the strap's construction is solid, the leather quality is great and it's a perfect complement to the vintage cameras.  This product was handmade, and the quality is excellent. It fits easily into your camera, and it's adjustable to fit well around your neck. The strap feels durable enough to hold up for a long time as you're using your camera (and as such will be able to withstand daily use).   It's adjustable to fit the camera well, and the strap is high quality.
The height of this product can be adjusted very easily to fit to your personal preference (and thus you won't struggle with its use). It also feels quite comfortable for someone who wears it around his neck or across his chest. Additionally, the length of this strap is great if you want it to hold up your heavy DSLR camera (in case you like taking photos but don't want extra weight on your shoulder). The leather feels smooth and comfortable against your body; there are no rough edges or anything that might irritate you during wear.
The Presidio is a handcrafted, crossbody strap that is designed to be worn with camera kits weighing up to six pounds. The strap features two sets of chrome buckles for adjusting its length between 24″ and 29″, as well as a neoprene-padded neckline for added comfort and security.
The full grain leather and waxed canvas construction of the Presidio ensures maximum durability and weather resistance, while the packable design makes it easy to carry without adding bulk or taking up valuable space in your bag.
Whether you're shooting the streets throughout the city on your way to work, walking along the coastlines capturing ocean views, or racing back from a wedding shoot before sunset.
The strap is 100% genuine leather and canvas fabric. The shoulder pad has nonslip padding (which is great for when you're juggling too many things at once), and the hardware is brass (which allows for easy adjustments). The strap comes in three different colors: light tan, brown, and black. You can also have them monogrammed if you wish!
9. Vi Vante Luxury Sheetline Rope Camera Strap
Most Sheet line camera straps come in nylon webbing and/or microfiber. Vi Vante's sheet line is also made with luxury Napa leather at each end. To add to the protection, Vaute Couture also added side protection with a stitch of red thread on either side of the strap. The mounting rings are electroplated steel, giving them an elegant shine. The Strap has built-in tension relief and has some give adding to length, it isn't just a cut rope.
10.  Stroppa Flat Duo Yellow camera strap
The strap itself is very lightweight and durable, which was a huge surprise to me. I have been using a very thick, heavy rubber & leather strap for the past 10 years and never thought I would want to replace it – but once I got to try this Stroppa strap, that's what immediately came into my mind!
The construction of this strap makes it much more comfortable than any other rope-style straps out there (no fully metal parts used). It will not leave marks or red marks on your neck as opposed to other models made from harder materials.
Even though it is extremely light weight – one can feel its strength when holding it in hands. The leather is strong yet flexible enough to expand around your neck easily. There are no hardware parts on this strap.